A thoughtfully developed tracker can provide deep insights on any therapeutic area. Using the results of a syndicated AplusA tracking study on the Multiple Myeloma market, this series of blog posts look at the key insights that such a tracking study can provide.
For a complete overview of insights from this study,

Background on the MM market
The European Medicine's Agency (EMA) has approved several branded therapies to treat Multiple Myeloma (MM) in countries of the European Union, including the top-5 EU.
These therapies in order of their date of approval include: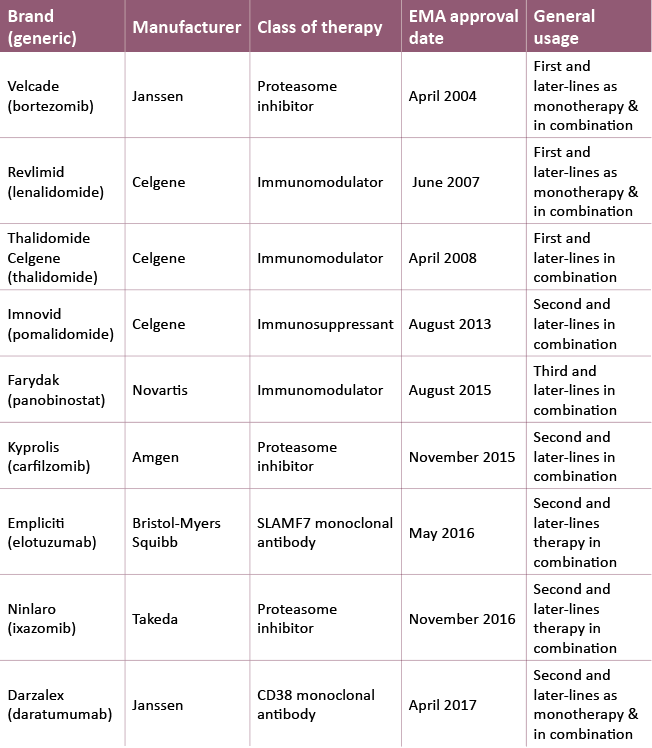 Tracking studies are conducted in order to answer pre-defined brand related questions that healthcare marketers have about their products. These questions could, for example, explore:
the indications in which a brand competes overtime
the evolution of the penetration of the brand across different lines of treatment
whether there are differences in how the brand is prescribed and perceived among top-5 EU countries
Key insights on Velcade
®

and Revlimid

®

in the MM market

Janssen's Velcade® (bortezomib)

Velcade®, a proteasome inhibitor, is approved in combination with melphalan and prednisone for previously untreated adults who cannot receive high-dose chemotherapy with a stem cell transplant (SCT), in combination with dexamethasone plus or minus Thalidomide for previously treated adult patients who will receive SCT. It is also approved alone or in combination with doxorubicin or dexamethasone in second or later lines.

As revealed by AplusA's multiple myeloma tracker, Velcade® holds the predominant first-line induction and the leading first-line non-SCT patient shares across top-5 EU countries. Its first-line maintenance and second-line shares are moderate, while third and later-line penetration is relatively low. In recent quarters, Velcade®'s top-5 EU maintenance patient penetration has decreased by approximately 10 points. Other Velcade® penetration trends during this time-period have remained stable. Over recent quarters in the UK, a notable shift in patient share from VCd5 to Vd6 had no impact on the overall penetration of Velcade® or other branded products.


Celgene's Revlimid® (lenalidomide)

Revlimid®, an immunomodulatory agent, is approved as monotherapy for maintenance treatment of newly diagnosed patients after SCT, in combination with dexamethasone plus or minus Velcade® or with melphalan and prednisone in newly diagnosed patients ineligible for SCT, and in combination with dexamethasone in second and later-lines.

AplusA's tracker shows that Revlimid® holds leading patient penetration in 1st line maintenance, as well as in second and in third line. In other MM indications Revlimid® penetration is moderate.

During recent quarters Revlimid®'s first-line non-SCT and maintenance top-5 EU patient penetration experienced notable growth. Other product penetration remained stable overall. First-line non-SCT patient growth largely was due to a shift from VMP7 to RVd8 in Italy and Spain. As a result of shifts between Revlimid®/ Velcade® combinations, Velcade®'s overall patient penetration recently has remained stable.

Find out more

To discover market insights on the other branded therapies used to treat Multiple Myeloma in countries of the European Union, including the top-5 EU, download our latest free eBook which also considers the following questions:
What critical insights do trackers provide on brand performance?
What business-essential knowledge do trackers provide about patients?
What do trackers reveal about market dynamics?
To contact our team to find out more about our syndicated tracking study on MM or other diseases within hemato-oncology, contact us here.
Source: AplusA Syndicated Multiple Myeloma Tracker 2019